I hope I am posting this in the right area. I need some help with PCSX2. My son wants to play Kingdom Hearts 2 Final mix on his pc. However it only plays 20 to 40 fps, which he does not like. I have spent the better part of three days trying to speed it but I just can't do it. I'm throwing in the towel and asking for some help with this. Last year he had it working on his pc, but reformatted it and didn't save anything. I don't remember how we got it working than, but he says we did. I have the program running with the plugins and bios, and have configured and reconfigured the darn thing over and over again only to come up with the same fps. ANY help on this will be most appreciated. Thanks!

Tonia
Beginner





Windows version

:

Windows 8
Windows 7
Windows Vista




System architecture

:


Favourite games

: All COD Games, The Sims 3, The Sims 4, GTA 5, Classic Super Mario







Posts

: 19


Points

: 2197


Reputation

: 0


Join date

: 2012-11-10


Location

: Indiana



Have you tried disabling the frame limiters?
Boot the game and press "F4" on your keyboard
also check your settings they should look something like this: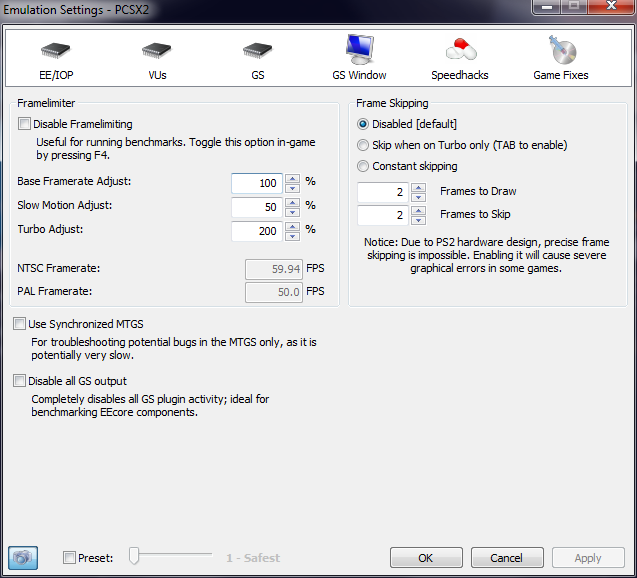 also is this computer a laptop or older pc? Laptops are prone to overheating and when this happens they slow down to reduce strain on the machine. Same thing with older machines, they can't handle the program.
Also is your computer dirty?
Sometimes cat hair and other crud can get in the vents and clog them. The computer will react by reducing it's performance. Low performance=slow computer.
Last edited by Sir Auron on Sun 02 Jun 2013, 18:25; edited 1 time in total (Reason for editing : additional details)
_________________
Regardless of warnings, the future doesn't scare me at all!

~ Utada Hikaru - Simple and clean [Kingdom Hearts: Birth by Sleep]
Posting Nerd





Windows version

:


System architecture

:


Favourite games

: Kingdom Hearts (series), Pokemon (series)



Posts

: 54


Points

: 2043


Reputation

: 27


Join date

: 2013-06-02



---
Permissions in this forum:
You
cannot
reply to topics in this forum