Hello all,
A number of users reported issues regarding the crack that is included in our Office 2013 release. Note that this is only a preliminary finding, and that we may come up with more solutions over time !
For now, I installed Office 2013 on my main machine. The installation of the AutoKMS server was successful: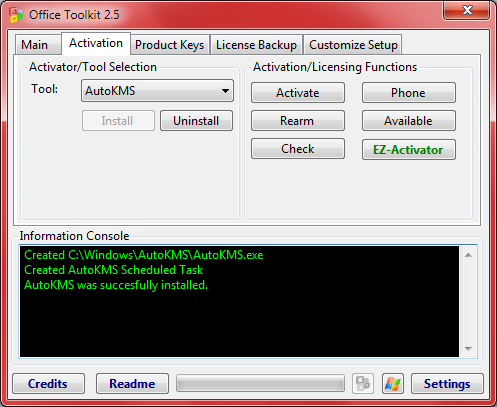 However, the next step, namely using the "Activate"-button on the right, was not working for me. Whenever I did that, I got this here: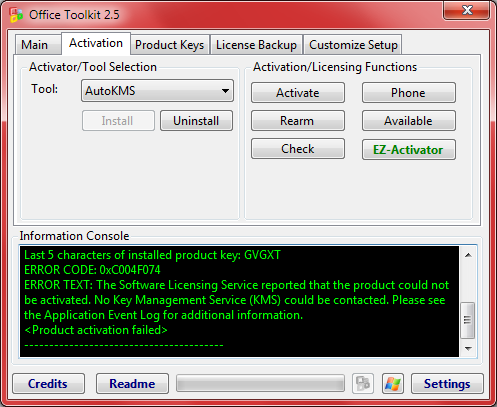 I got this "error code 0x0C004F074". Of course, you may (or may not ?) get a similar error code. In the end though, you are unable to activate office 2013. Even if you re-arm after that.
What I did in the following was partly based on some good old guesswork: I had reason to believe that my anti-virus program (avast Internet Security) was messing with the activation process. Although I have long set all the exclusion locations on my machine, and some of the shields of avast were de-activated. But for some reason it still blocked the activation.
I decided to temporarily shut down avast completely, and I re-armed. Then I tried the activation again..and it worked ! Afterwards I even turned avast on again, re-armed and re-activated, just to see what happens. But then, even with avast ON, I was now able to activate Office 2013 successfully. See this here:
I think that parts of the anti-virus program (the firewall ?) are blocking the "communication" between this actual crack file and the KMS server. So by turning off avast completely (temporarily) I managed to activate it. I think it is essential that the
first time activation
is successful. 
And I hope that this small experience here will benefit at least some of you too. Good luck, and we will keep you posted about further developments.
DO NOT POST ANY QUESTIONS OR PROBLEMS IN THIS TOPIC. INSTEAD, PLEASE OPEN A NEW TOPIC IN THE APPROPRIATE FORUM-SECTION, "NON-SIMS SUPPORT"! THANK-YOU-NOTES CAN BE POSTED HERE.

The_gh0stm4n

G4TW RETIRED Gatekeeper
Inspector General / Forumz O.G.





Windows version

:

Windows 8
Windows 7
Windows XP
Windows 10




System architecture

:

32 bits (x86)
64 bits (x64)




Favourite games

: The Sims 3, L.A. Noire, Saints Row, Red Faction, Team Fortress 2, Overwatch, PvZ: Garden Warfare, Call of Duty: Ghosts, GTA: San Andreas, Counter-Strike, Hitman, Borderlands, The Binding of Isaac, Government simulation & Military strategy games, S.W.A.T. 4, GTA V / GTA Online, Red Dead Redemption II / Red Dead Online, Chessmaster XI, Monster Hunter: World, Paint the Town Red, Destiny 2.







Posts

: 18955


Points

: 25766


Join date

: 2012-11-02


Location

: Liechtenstein / Switzerland



---
Permissions in this forum:
You
cannot
reply to topics in this forum