*Note* this guide is mainly relevant for users who are playing with the Origin & ZLOrigin versions of The Sims 4!
(Downloadlinks updated: 19/08/2018)
Hello,
Since the Origin & ZLOrigin versions of The Sims 4 by default only contain one display language (namely, the one that has been chosen during the initial setup), you can find yourself in a slight predicament if you desire to use a different in-game display language. 
This guide is not relevant for people using the 'classical' cracked version of The Sims 4, as these repacks - like on G4TW - oftentimes already contain all 17 language versions, and switching languages in these cracked versions is easy.
In Origin & ZLOrigin however, things are more tricky. The way one has to go about it, as exemplified on ZLOrigin, is to go under the Game Properties of The Sims 4.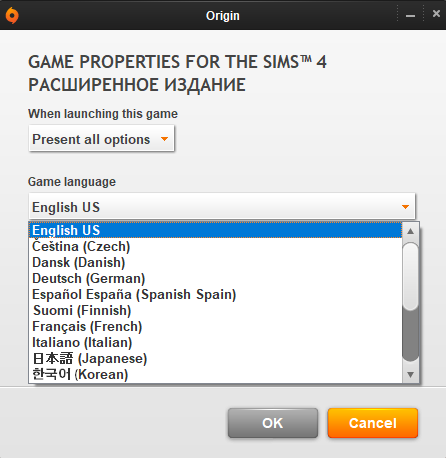 And under "Game language" choose the new language that you desire to play the game in. Now, after you choose that new language and click "OK", the entire game installation will be verified, before the new language strings are eventually downloaded and installed. A very tedious process; in my own case, fetching just one language 'cost' nearly 10 minutes.
So what users of Origin & ZLOrigin can otherwise try, is this here.
1)
Download the latest available (1.46.18.1020) Language String Files here.
 Extract with WinRAR, and copy/paste all folders, over your TS4-installation on Origin or ZLOrigin. When prompted, please choose to replace all existing files as well.

Download link
 (
Mirror 1
-
Mirror 2
)
2)
Then you should also change the language of the game, in the registry.
Use the small download
here
. Extract again with WinRAR, double-click on the file with your desired language, ignore the warnings, and confirm the import of the registry entries. Important note: you only need to download (& import) these registry files once. If you already downloaded these registry files in the past there there is a new update, you do NOT need to re-download from this link again. Just grab the string files under #1 above. Then you should be fine! Good luck - and be sure to check back in this thread for future versions of the Language Files.

Extra note: you can ALSO apply these language string files on a CODEX-version of The Sims 4, that you downloaded from a different source than Games4theworld! Most other uploaders only have one language in their repacks, and that language is usually English. If you then change the display language on these games, you end up with an error. 
DO NOT POST ANY QUESTIONS OR PROBLEMS IN THIS TOPIC. INSTEAD, PLEASE OPEN A NEW TOPIC IN THE APPROPRIATE FORUM-
SECTION, EITHER "THE SIMS 4 DOWNLOADS SUPPORT" OR "THE SIMS 4 IN-GAME SUPPORT"! THANK-YOU-NOTES CAN BE POSTED IN THE APPROPRIATE FORUM-SECTION, or directly under this thread.

Note that any and all questions posted under this thread, will be deleted without any explanation or advance warning. We have the Forum sections dedicated to Support purposes, for a reason.
_________________
Forum Rules
// 
Forum FAQ
//
All G4TW Downloads
//
G4TW The Sims 4 Gallery Collection
//
How YOU can help seeding!
How to install The Sims Medieval
//
The Sims 2 Overview
 // 
How to install The Sims 3
//
TS3 Expansion install checklist
// 
How to install The Sims 4
Feel free to e-mail me for general questions about G4TW & if you don't get a reply after 24 hours of opening a new Forum topic!
G4TW Training Administrator
General of the Armies/Gatekeeper





Windows version

:

Windows 8
Windows 7
Windows XP
Windows 10




System architecture

:

32 bits (x86)
64 bits (x64)




Favourite games

: The Sims 3, L.A. Noire, Saints Row, Red Faction, Team Fortress 2, Overwatch, PvZ: Garden Warfare, GTA: San Andreas, GTA V / GTA Online, Counter-Strike, Hitman, Borderlands, Fallout, COD, Battlefield, The Binding of Isaac: Afterbirth †, Government simulation & Military strategy games, S.W.A.T 4.







Posts

: 16456


Points

: 22063


Reputation

: 2391


Join date

: 2012-11-02


Location

: Bellisarius Hall



---
Permissions in this forum:
You
cannot
reply to topics in this forum