Information updated on Saturday, August 4th 2018.
Dear users,
As of late there have been more and more user questions and concerns regarding various forms of adverts in Forum links here, and I want to address the issue with this post. 
Games4theworld has always been about helping users, mostly about issues with computer hardware and (PC/Windows) software/games. In order to achieve that in an efficient manner, we rely on many forms of 'linking'. Links assisting in our work can lead to
- guides/articles/announcements posted on this very Forum itself
- items on the 
old Games4theworld website
- and items hosted on various external services
Our overall aim is provide users with solutions and support that are as painless as possible to apply. Now, since this very Forum is hosted by the service
"Forumotion"
, we do not have any influence on virtually all of the advertising that you may encounter. Advertising revenue goes to Forumotion. Therefore, it can happen that if we post a link leading to an external filehosting service such as MediaFire or MEGA, the link may work flawlessly at first. But soon after, the forum software algorithm may put advertising in-between the download. As we notice these things, we will try and remedy them as soon as possible. For example, as of most recently, Forumotion put adverts in-between download links in our
TS4 Gallery
 and
TS3 Exchange
 sections. In the meantime, all links there were fixed again.
However, there are a few cases where advertising is indeed deliberate. Such is the case with patches and fixes about TS3/TS4: clicking on these links will lead to an advertisement. We are aware that this step is a novelty in the history of Games4theworld. And we also expect that this new "feature" is going to be somewhat unpopular among users. Whatever you may end up thinking now, however, we would also like to ask you to consider the other side of the coin. Maintaining the Games4theworld websites costs money, and since we are a non-profit organization we have no income. All team members are unpaid volunteers, and the hosting for the websites is paid out of the own pockets. 
The little money gained from this form of advertising is also used for the maintenance of the 
Games4theworld Minecraft Server
.
As mentioned above, we want to keep the support and user experience on the Forum as painless as possible. We therefore have no intention to extend this advertising to other links. Again, we only have these adverts on the TS3 and TS4-related fixes and patches. 
I know this new measure will at the very least cause disillusionment with some users. But in the end, I assure you nothing is really going to change. All our support and fixes are and will remain absolutely free of charge for you, to use and enjoy. No matter whether you are a registered user or an unregistered guest (and no, unlike many other Forums, we at Games4theworld do not diminish access and viewing permissions for guest users).
To end this editorial, I would also like to add that you should not be thinking now that we "will become rich" - or something along those lines. The "revenue" from these advertisements helps cover part of the cost associated with hosting these websites, but not really more than that. Which is good: unlike many other sites we still believe in the idealism of free support and help.
Should you be unable to reach the download sites through these adverts, try temporarily (!) disabling your browser adblockers.
//UPDATE
A small update is in place. We are aware of the various concerns and complaints regarding the use of adfly. For instance, ads with pornographic content, which in our case could be seen as problematic as Games4theworld generally strives to be family- & child-friendly. It has also been reported by some users that adfly possibly installs malware on the user's computer.
At this point, I myself can only emphasize that it is of course within your prerogative whether you want to support adfly or not. Personally, I wish we could do without. But then it appears to me that many users seem to underestimate the fact that our platform is primarily geared towards pirated items, and therefore the choices for "legit" ads are very limited at best; oftentimes even non-existing.
I am also aware that some other site operators out there proclaim "not to use ads at all on their sites". Modern-day chivalry and selflessness aside, this is not an option for us. As sarcastic as this might come across now, we simply do not have the resources necessary here to do completely without these ads. Even more so, since donations are not really an option either for us.
For the moment we will continue as usual with those adfly-shortened URLs, but here are some tips to mitigate problematic side-effects of adfly.
you can actually report adfly-adverts
; admittedly I do not know whether those reports are taken seriously or even read (probably depends on the number of complaints), but there is at least an option here.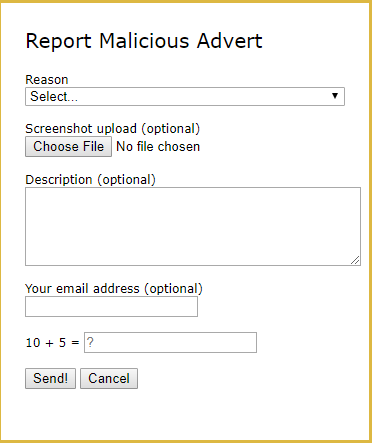 antivirus protection could help guard you against unwanted stuff, but then keep in mind that a lot of these programs also have the tendency to not allow you to access/bypass adfly at all.
Consider temporarily turning off your anti-virus program(s) and/or add the necessary exceptions.
  should you get some sort of "server error", try accessing the adfly later. If you find you cannot access those ads at all,
it may be the case that your ISP (Internet Service Provider) has put up some roadblocks for you. In which case you could try copying the adfly-shortened URLs, and then use a webproxy or VPN, to try accessing those sites.
  we frequently get messages asking to unblock these links in such a way as to remove the adverts.
Note that we do not unblock links, and we will therefore ignore requests for unblocking downloads.
The policy stands as is, until further notice. While we are aware that it is going to upset many people, you can consider it as a form of "donation" that keeps us providing you with high-quality repacks and Support, as well.
  again, it is within your prerogative whether or not you want to support the ad-fly;
just as it is within your prerogative to grab your downloads from a different source than G4TW
.
Last edited by The_gh0stm4n on Sun 21 Jan 2018, 09:52; edited 6 times in total

The_gh0stm4n

G4TW RETIRED Gatekeeper
Inspector General / Security Attaché





Windows version

:

Windows 8
Windows 7
Windows XP
Windows 10




System architecture

:

32 bits (x86)
64 bits (x64)




Favourite games

: The Sims 3, L.A. Noire, Saints Row, Red Faction, Team Fortress 2, Overwatch, PvZ: Garden Warfare, Call of Duty: Ghosts, GTA: San Andreas, Counter-Strike, Hitman, Borderlands, The Binding of Isaac, Government simulation & Military strategy games, S.W.A.T. 4, GTA V / GTA Online, Red Dead Redemption II / Red Dead Online, Chessmaster XI, Monster Hunter: World, Paint the Town Red, Destiny 2, The Elder Scrolls Online.







Posts

: 18958


Points

: 25812


Join date

: 2012-11-02


Location

: Liechtenstein / Switzerland / Austria



---
Permissions in this forum:
You
cannot
reply to topics in this forum