Hello,
This guide will attempt to give you an overview about actually installing custom content for The Sims 2.
I) .sims2pack files
This type of file can be seen as a "container" for other files, meaning that in itself, they contain a further subset of two or more individual custom content items. If you open a .sims2pack file with the CleainInstaller mentioned in the other post, you will see this here: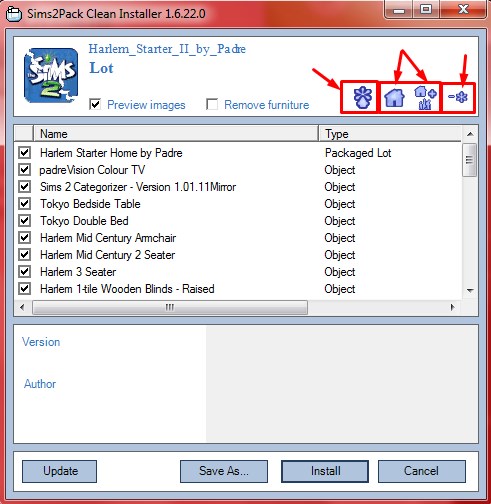 Opening a .sims2pack files will typically reveal a number of individual & smaller sub-items. You can choose which components of the .sims2pack you want to install. If you look at the top right of the window, you will notice various options. You can choose ALL items, only the house, the house plus the family, or all files minus any hacks/script mods. 
Looking at individual items there, they may be colored.
red = script mods. Be careful with those, as they may cause conflict! It could be an idea to uncheck the box next to red items, to not install them.
pink= duplicate items. You can delete duplicates, so that you only have one (1) original item.
Now if you click on the "install button", you will get this here:
If the .sims2pack contains a house/lot, please do NOT change the "Teleport" under "Select installation folder". Houses/Lot-files belong under this Teleport-folder, therefore changing the location will make the house/lot not show up in-game.
After installing a .sims2pack you will typically get a bunch of files under Documents\EA GAMES\The Sims 2\Downloads.
And if the .sims2pack contained houses/lots, you will get a few files under Documents\EA GAMES\The Sims 2\Teleport as well.
Alternatively, you should be able to install .sims2pack items simply by double-clicking on them (without having the CleanInstaller present on your computer). It should bring up the EA installer. The disadvantage of that method is, you won't be able to see and select the actual contents of the .sims2pack files. 
I personally consider the method using the CleanInstaller better than using EA's default installer. 
A disadvantage is, you can only install .sims2pack files one-by-one. There is 
Delphy's Multi-installer
, though I myself don't have much experience with it. Be advised! I would recommend you be selective about installing .sims2packs, due to the fact that they can contain items within them, such as hacks/script mods and whatnot. You will probably want to be able to check every individual .sims2pack for yourselves, even if it takes more time and effort.
II) .package files
It is possible to have subfolders (and sub-sub folders) within Documents\EA GAMES\The Sims 2\Downloads.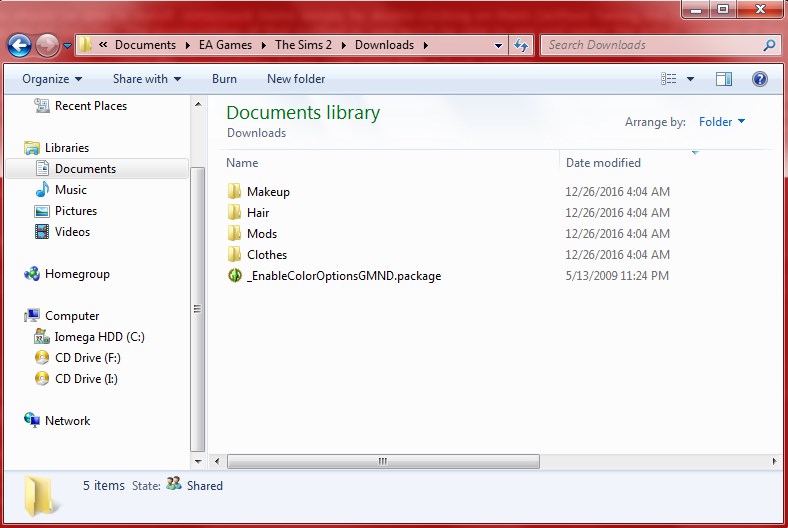 Be advised though that if you have "too many" layers of subfolders, loading times of the game can increase, and it may even be possible that the game cannot detect custom content then, even if it has been installed properly.
I would actually suggest you have another folder elsewhere on your computer, that is organized accordingly with subfolders. THEN you put the custom content from that other folder, to your Downloads-folder. And yes, this will typically mean you "install" .package files one-by-one.
Remember again, as mentioned in Part I of the guide you should install the
Color Enabler Package
 in order to make recolored items visible in-game! If the item requires a custom mesh, please read the description carefully, as to obtaining it.
But basically .package files need to be put into this Downloads-folder. After you properly inserted .package files into the Downloads-folder, you should get a popup during game startup. Choose "Enable Custom Content" and then OK.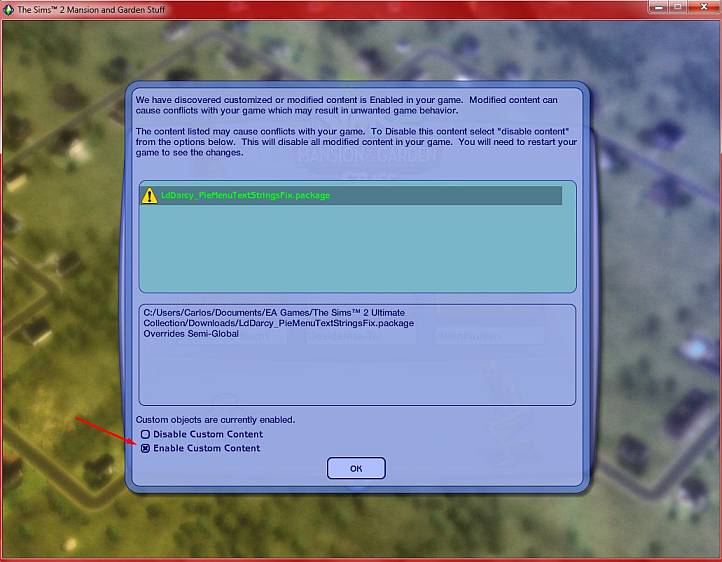 In the game options menu, you can also choose to enable/disable "modified content". Or even if you want this popup to display at game startup.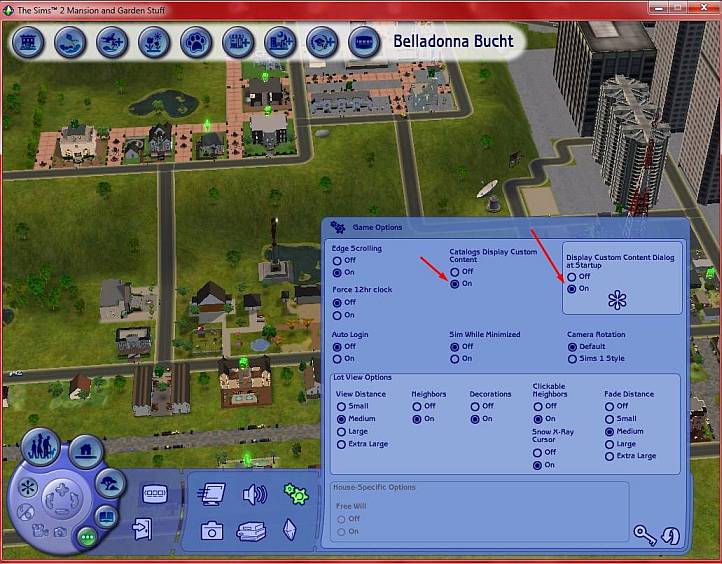 III) .sims2skin files
These are custom-made sims. After installing The Sims 2, double-click on the files to install them. If you create a sim in CAS, and you get to screen with the "6 steps" of creating your sim, there should be a button at the top of the screen saying "choose existing sim". You can find your custom-made sim there, that you downloaded & installed.
IV) .sc4 files
These are terrain-files. You must insert those files in Documents\EA GAMES\The Sims 2\SC4Terrains. At the beginning of the game/main menu, create a new neighborhood and there should be your custom-made terrain among the selection.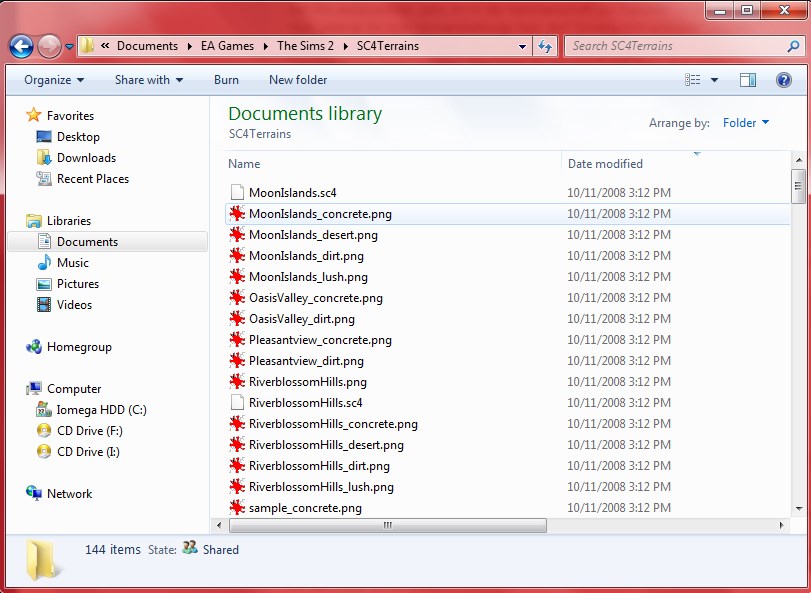 This little introduction should do for the time being. Over time I may or may not add more information to these guides. Until then, good luck, and if you need more support on this topic, please open a new thread in the 
this Forum section here
.
Continue with Part III of the series here:
https://games4theworld.forumotion.com/t24211-the-sims-2-custom-content-part-iii-desperation-some-tips-for-troubleshooting-cc-related-problems#161190
_________________
Forum Rules // Forum FAQ // How YOU can help seeding // VPN discussion thread // How to install TS3 // TS2 Overview thread

How to install TS Medieval // How to install TS4 // G4TW Sims 4 Gallery Collection!
You can e-mail me for general questions about G4TW, site navigation, and Forum account issues! 

NO GAME SUPPORT VIA E-MAIL ! 
G4TW Security Administrator
Inspector General & Site Gatekeeper





Windows version

:

Windows 8
Windows 7
Windows XP
Windows 10




System architecture

:

32 bits (x86)
64 bits (x64)




Favourite games

: The Sims 3, L.A. Noire, Saints Row, Red Faction, Team Fortress 2, Overwatch, PvZ: Garden Warfare, GTA: San Andreas, GTA V / GTA Online, Counter-Strike, Hitman, Borderlands, Fallout, Call of Duty, Battlefield, The Binding of Isaac: Afterbirth †, Government simulation & Military strategy games, S.W.A.T 4.







Posts

: 17517


Points

: 23713


Reputation

: 2649


Join date

: 2012-11-02


Location

: Bellisarius Hall



---
Permissions in this forum:
You
cannot
reply to topics in this forum