Hello all,
Since there have been some confusions on whether you should "update" a cracked Sims 4 game via Origin, here's a small post to clarify this. 
First of all: this post is
only
relevant for those of you who have a legit copy The Sims 4 registered to their Origin accounts, and who also added any pitated expansions/updates to the game, like the 
Ultimate fix
 for instance. Very briefly: do NOT update your Sims 4 game via Origin, if you added cracked content to it. Read the following...
Note that while I have a legit version of Sims 4 registered to my Origin account, I actually un-installed it a long time ago already. The install location of G4TW's game differs too, compared to the Origin version. It is now C:\Program files(x86)\The Sims 4. 
Also note that this procedure applies to ALL Sims 4 editions on Origin ("The Sims 4", "The Sims 4 Limited Edition", "The Sims 4 Digital Deluxe Edition").
Still, the Origin client detects the (now) pirated Sims 4, and it allows me to "update" the game via the Origin interface. Of course, you should NOT do this. Instead, click on the button "Origin" in the top left of the window, and then choose "Application settings".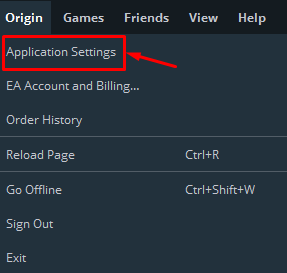 In the "Application"-tab, scroll down a bit and put the option "Automatic game updates" to OFF. That way, when a new official EA update for The Sims 4 is available, you must install the update manually, by right-clicking on the game in the Origin library and updating it.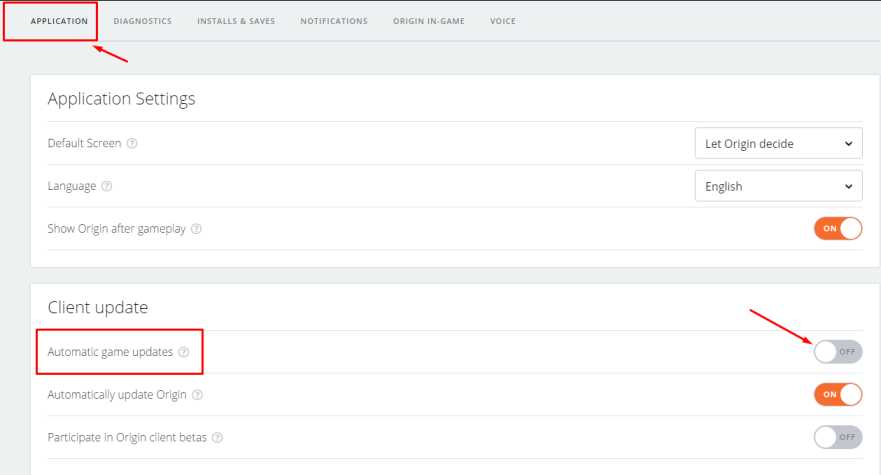 Which in turn should lessen the likelihood of updating the game "accidentally".
The reason you should de-activate automatic game updates is because if you added cracked content/DLC to your legit Sims 4 (like the aforementioned "Ultimate fix"), the update via Origin will render the game unplayable, and you would have to wait until a new Ultimate fix has been released, in order to play the game again. Alternatively of course, you could uninstall your TS4 game, apply this Origin-client procedure here, and re-install the pirated TS4.
Again: if you have a legit copy of Sims 4 registered to your Origin library, and you added the Ultimate fix (to get any DLC & other extra game content), you should NOT update the game via Origin. The same goes if you un-installed your legit Sims 4 and used the items from Games4theworld only. Instead, I suggest you de-activate automatic game updates, as shown above.
Any questions, or is anything still unclear ? Feel free to open a new thread in our The Sims 4 Downloads Support -section. Good luck for now.

DO NOT POST ANY QUESTIONS OR PROBLEMS IN THIS TOPIC. INSTEAD, PLEASE OPEN A NEW TOPIC IN THE APPROPRIATE FORUM-
SECTION, EITHER "THE SIMS 4 DOWNLOADS SUPPORT" OR "THE SIMS 4 IN-GAME SUPPORT"! THANK-YOU-NOTES CAN BE POSTED IN THE APPROPRIATE FORUM-SECTION, or directly under this thread.

Note that any and all questions posted under this thread, will be deleted without any explanation or advance warning. We have the Forum sections dedicated to Support purposes, for a reason.



_________________
Forum Rules // Forum FAQ // How YOU can help seeding // VPN discussion thread // Contact Us


Choose your "Destiny" (wisely) !!


G4TW Forum Gatekeeper
Inspector General & Sergeant-At-Arms





Windows version

:

Windows 8
Windows 7
Windows XP
Windows 10




System architecture

:

32 bits (x86)
64 bits (x64)




Favourite games

: The Sims 3, L.A. Noire, Saints Row, Red Faction, Team Fortress 2, Overwatch, PvZ: Garden Warfare, GTA: San Andreas, GTA V / GTA Online, Counter-Strike, Hitman, Borderlands, Fallout, Call of Duty, Battlefield, The Binding of Isaac: Afterbirth †, Government simulation & Military strategy games, S.W.A.T 4.







Posts

: 17759


Points

: 24035


Join date

: 2012-11-02


Location

: Bellisarius Hall



---
Permissions in this forum:
You
cannot
reply to topics in this forum