Hello,
If you happen to have downloaded and installed the "Ultimate Collection" of The Sims 2 (see e.g. 
this topic here
), you normally won't get any option whatsoever to select a specific display language. In the event that you want to change the in-game display language after the installation, there is no need to uninstall the game ! Instead, see the following.
Press the Windows key + R. In the small window that comes up type regedit and hit enter. If you have a 64-bit Windows operating system navigate to HKEY_LOCAL_MACHINE\Software\Wow6432Node\EA GAMES\The Sims 2 Fun with Pets Collection\1.0. If you have a 32-bit Windows system instead, navigate to HKEY_LOCAL_MACHINE\Software\EA GAMES\The Sims 2 Fun with Pets Collection\1.0.
See my example screenshot here (from my own 64-bit Windows system).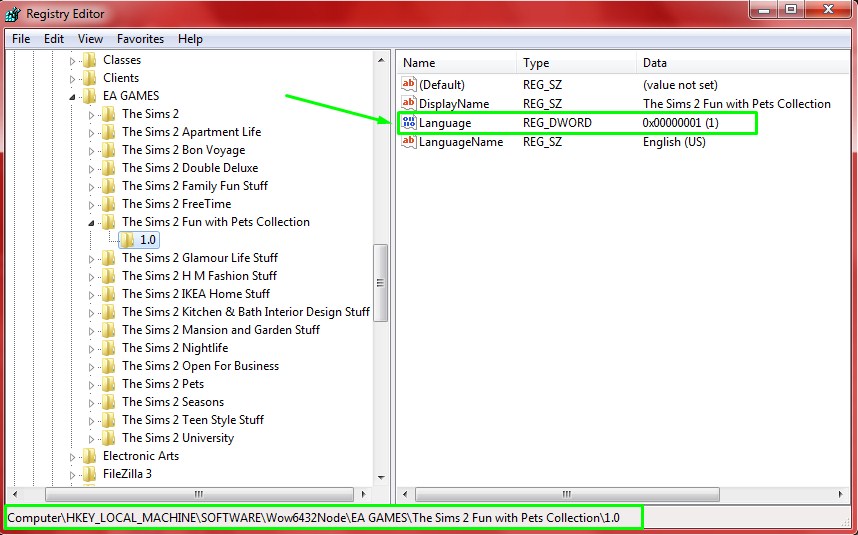 Double-click on where it says language. In the small window that pops up, replace the number or letter under the field "value data" with one of the following symbols in bold red font color, depending on what you would like to have as your new display language.
1
... English (US)
2
... French
3
... German
4
... Italian
5
... Spanish
6
... Swedish
7
... Finnish
8
... Dutch
9
... Danish
a
... Portuguese (Brazil)
b
... Czech
c
... Hebrew
d
... Greek
e
... Japanese
f  
... Korean
10
...Russian
11
...Chinese (simplified)
12
...Chinese (traditional)
13
...English (UK)  
14
...Polish 
15
...Thai
16
...Norwegian 
17
...Portuguese (Portugal)
18
...Hungarian
Close that small window then, and close the registry editor. Upon your next start of the game, and if you did the above correctly, your game should now be in the language that you selected in the registry editor. Have fun !
P.S. as stated initially, this is for those of you who have the "Ultimate Collection" of The Sims 2 via Origin. If you downloaded the "Complete Collection" of The Sims 2 from Games4theworld, you should always get a prompt - prior to the installation of each game component (base game/expansion/stuffpack) - about the language that you desire. You could change the language there too, by the same method as above. However, I am not 100% sure right now if it is enough to just change the registry under the registry-folder of the latest (installed) expansion/stuffpack. I recall that with the old retail disc versions of The Sims 2, it was recommended to change the registry in ALL of the games registry-subfolders. But I will write more on that, sometime else.

DO NOT POST ANY QUESTIONS OR PROBLEMS IN THIS TOPIC HERE. INSTEAD, OPEN A NEW TOPIC IN OUR TS1/TS2/TS Medieval - SECTION ! ALL COMMENTS ABOUT QUESTIONS/PROBLEMS WILL BE IMMEDIATELY DELETED WITHOUT ANY ADVANCE WARNING !
_________________
Forum Rules // Forum FAQ // How YOU can help seeding // VPN discussion thread // How to install TS3 // TS2 Overview thread

How to install TS Medieval // How to install TS4 // G4TW Sims 4 Gallery Collection!
You can e-mail me for general questions about G4TW, site navigation, and Forum account issues! 

NO GAME SUPPORT VIA E-MAIL ! 
G4TW Security Administrator
Inspector General & Site Gatekeeper





Windows version

:

Windows 8
Windows 7
Windows XP
Windows 10




System architecture

:

32 bits (x86)
64 bits (x64)




Favourite games

: The Sims 3, L.A. Noire, Saints Row, Red Faction, Team Fortress 2, Overwatch, PvZ: Garden Warfare, GTA: San Andreas, GTA V / GTA Online, Counter-Strike, Hitman, Borderlands, Fallout, Call of Duty, Battlefield, The Binding of Isaac: Afterbirth †, Government simulation & Military strategy games, S.W.A.T 4.







Posts

: 17453


Points

: 23617


Reputation

: 2626


Join date

: 2012-11-02


Location

: Bellisarius Hall



---
Permissions in this forum:
You
cannot
reply to topics in this forum